The Greatest Breakthrough
In Hitting Technology Ever!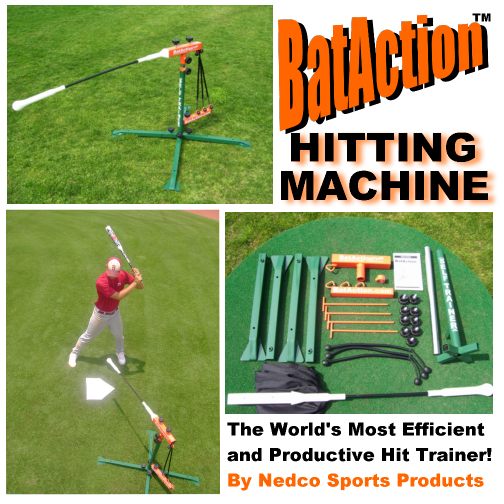 This machine is the greatest breakthrough in hitting technology since the batting tee and pitching machine! You can perform dozens of productive and exciting drills! This Machine does it all! Satisfaction Guaranteed!

IF YOU ARE TRYING TO CONVINCE YOURSELF NOT TO BUY THIS MACHINE, YOU ARE MAKING A MISTAKE. I KNOW THAT THIS MACHINE ALMOST SOUNDS TOO GOOD TO BE TRUE. BUT, YOU ARE LOOKING AT A MACHINE THAT TOOK YEARS TO DEVELOP AND ENGINEER. YOU MUST HAVE QUESTIONS. I WOULD LIKE TO ADDRESS THE ONLY THREE REASONS SOME PEOPLE CAN COME UP WITH TO NOT BUY:

You Comment: "Hitting machines are a dime a dozen and and gadgits come and go."

Coach Nick's Response: Be careful what you call a gadgit. I have had many people call my inventions gadgits. However, I stand behind each and say that they are legitimate training aids. Now my products are some of the world's most respected and popular training aids. When it comes to coaching and training aids, I can assure you that Nedco Sports and Coach Nick Dixon are two names that you can trust. Our company has a lineup of impressive brands including ZipnHit Trainer, Hit2win Trainer, Hurricane Trainer, and Sklz Target Trainer.

You Ask: "But it cost so much. How do I know I am getting my money's worth? I have seen other devices that cost less and were endorsed by the PROS.

Nick's Response: Celebrity endorsements are certainly nice to have. They definitely sell product. In fact a good celebrity endorsement has been known to sell inferior products. Many consumers have been misled and taken advantage of Let's face it, money talks. Good products sell themselves. My products stand on their own merit. I want my customers to make their own decisions when purchasing. I want them to be happy with their purchase. Therefore, I offer a guarantee that my advisors said would never work. A 100% Money-Back Guarantee that buys your machine back if you feel it does not improve hitting skills. You see my advisors didn't really know how great my machine is. They are businessmen, not baseball or softball people. Now they are believers. With thousands and thousands of players working out daily on our machines, we have had only two machines returned. So I do have endorsements. The endorsement of improving players worldwide!
__________________
The Bataction Machine is great for BASEBALL & SOFTBALL Players!

Buying a BatAction Machine is a risk-free purchase. You have everything to gain and nothing to lose, when you buy this machine. The BatAction Machine is a TRUE WINNER! Shouldn't you make sure that your favorite player has the proper equipment for maximizing workout time and quality? Purchase your son or daughter a BatAction Machine and give him or her a "Hitter's Homework Machine" that will help him or her practice and improve for years and years. The BatAction "Self-Trainer" comes with a money-back guarantee and a 1-year replacement warranty on all metal parts!

Coach,

I purchased the BatAction in March of this year. I'm coaching a 7/8 year old coach pitch team of the Navy Youth Sports Association in Pensacola. I use the machine at practice and for warm-up prior to each game. Your machine was a "BIG HIT"! The team batting average after 11 games is .721 compared to our opponent's jut over .300. My six year old son is batting .807, 2nd highest to a leading average of .821. We are undefeated to date with two games left in the season. As the season progresses the other teams have gotten stronger. But I think the BatAction got us in mid-season form by the first game. It enabled us to have more productive practices. My nine year old daughter is a fan of the machine also. she's batting .700 in fast pitch softball. She has improved 100% since last season. My family will soon be moving to Japan and plan on using it there as well. I just wanted to let you know how the machine has helped us this season. Thanks and I wish you continued success!

J.H. Pensacola, FL
Nick,

I just wanted to drop you an E-mail to let you know that since my 10 year old has been using the BatAction, he now has the best batting average on his team. He also has one of the best contact hitters in the league. He loves the BatAction and his coach does also. We use it every practice. Again thanks and I hope the business is doing great!

J.S. Magnolia, TX