Why Youth Baseball Players Should Get Hitting Instruction
By Chip Lemin
Happy Spring training to all coaches!
I never gave professional hitting instruction for youth baseball players much thought until my child started playing travel baseball. I then noticed that many teams did indeed use paid instructors to help players learn proper fundamentals. After I attended my first lesson, I realized what I thought I knew didn't amount to much in the big picture.I was giving instruction such as, keep your elbow up,and keep your eye on the ball.I don't think too many kids go up to the plate with their eyes closed. I was completely underwhelmed by my knowledge of hitting instruction.
I remember the instructor talked about the grip first. I didn't know about lining up the middle knuckles on each hand when the bat is gripped. He showed us(me included) how these knuckles will end up in this position as the player swings anyway.It was explained that the bat doesn't have to be held in a death grip.The bat should be held as loosely as the batter can tolerate.This helps keep the hands flexible during the swing. He also showed us how to choose the right length and weight of bat for each player. He discussed what a "long swing" was,and how it hurt the player's bat speed.
The instructor took the players through a couple fun drills to show us what he meant. The players have not even taken a swing at a pitch yet,and I had learned a lot. Some players will not like a different approach to hitting. They are comfortable with their current swing. A good instructor will not blow up a kid's swing in the first lesson. They will a take a small part of the swing,and modify it. Then at the next lesson, something else is introduced to help the hitter.Many players are doing a lot right in their swings to begin with. A smart instructor will take care not to overload, or completely change a player's swing right away. A good instructor should give fun "homework" in the form of drills to help the players develop their swings. This gives you the "coach" something concrete to work with. Be sure to take notes so you can use this great information at practice. This will help you to provide variety at practice. Bored players are much harder to motivate.
So don't hesitate to get professional instruction for your players. Most qualified hitting instructors will charge anywhere from 30-75 dollars per hour. It is worth the money when the players and the coaches use the information during practice.It also takes more than one lesson the make a difference. Plan on a series of lessons with no more than one week in between sessions. The less time off the better to enhance muscle memory. So ask around, or get out the phone book, and get some quotes. Then actually go watch some lessons in person. Don't be afraid to interview the instructor to see if you like their style.Do some homework like any other investment to get the best return on your team's hard earned money. Your coaching ability will grow as you learn more about hitting. You don't have to "know it all" ahead of time. Go soak up all the knowledge you can with professional hitting instruction for youth baseball players.
Coach Chip
Chip Lemin has been a promoter of youth baseball since they started using aluminum bats. That's a long time. I have witnessed many good people get into coaching without solid coaching skills and it is not fun for them or the kids.Today's newer coaches are also being shortchanged on sportsmanship, like there is none. Visit my site to sign up for a insightful, informational, free coaching e-course at http://www.baseballecourse.com
Article Source: http://EzineArticles.com/?expert=Chip_Lemin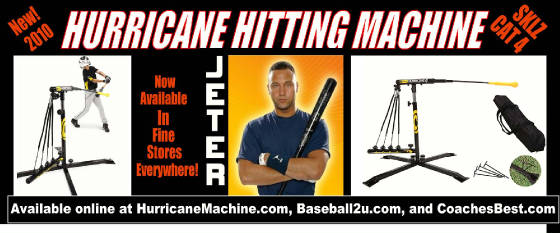 http://battingcagebuyingguide.blogspot.com/, http://coachesbest.blogspot.com/, http://batactionbaseballtraining.blogspot.com/,https://coachnick0.tripod.com/abcvideos, https://coachnick0.tripod.com/quickswing, https://coachnick0.tripod.com/advancedskillstee, https://coachnick0.tripod.com/albertpujolstrainerscom, https://coachnick0.tripod.com/bbd, https://coachnick0.tripod.com/backyardbattingcages, https://coachnick0.tripod.com/backyardpracticecom, https://coachnick0.tripod.com/bbtoday, https://coachnick0.tripod.com/pros, https://coachnick0.tripod.com/baseballandgear, https://coachnick0.tripod.com/bbandgear, https://coachnick0.tripod.com/bbbebg, https://coachnick0.tripod.com/baseballbuyingguide, https://coachnick0.tripod.com/baseballcamps, https://coachnick0.tripod.com/baseballclinics, https://coachnick0.tripod.com/baseballcoachingdigest, https://coachnick0.tripod.com/baseballfitnes, https://coachnick0.tripod.com/baseballmlbcom, https://coachnick0.tripod.com/baseballparentguidecom, http://coahttps://coachnick0.tripod.com/baseballtrainingbats , https://coachnick0.tripod.com/baseballtrainhttps://coachnick0.tripod.com/abcvideos, https://coachnick0.tripod.com/quickswing, https://coachnick0.tripod.com/advancedskillstee, https://coachnick0.tripod.com/albertpujolstrainerscom, https://coachnick0.tripod.com/bbd, https://coachnick0.tripod.com/backyardbattingcages, https://coachnick0.tripod.com/backyardpracticecom, https://coachnick0.tripod.com/bbtoday, https://coachnick0.tripod.com/pros, https://coachnick0.tripod.com/baseballandgear, https://coachnick0.tripod.com/bbandgear, https://coachnick0.tripod.com/bbbebg, https://coachnick0.tripod.com/baseballbuyingguide, https://coachnick0.tripod.com/baseballcamps,

https://coachnick0.tripod.com/baseballclinics, https://coachnick0.tripod.com/baseballcoachingdigest, https://coachnick0.tripod.com/baseballfitnes, https://coachnick0.tripod.com/baseballmlbcom, https://coachnick0.tripod.com/baseballparentguidecom, https://coachnick0.tripod.com/baseballtrainingbats, http://coachnick0.tripod.com/baseballwebguidecom, https://coachnick0.tripod.com/batactionbaseballandsoftballhitting, https://coachnick0.tripod.com/Bataction.com, https://coachnick0.tripod.com/batactiontrainingmachinesite, https://coachnick0.tripod.com/battingcagees4less, https://coachnick0.tripod.com/battingcagesdirect, https://coachnick0.tripod.com/battingcagesrus, https://coachnick0.tripod.com/battingteezcom, https://coachnick0.tripod.com/battingtrainerscom, https://coachnick0.tripod.com/nedcocages, https://coachnick0.tripod.com/bcrus, https://coachnick0.tripod.com/cbpolls, https://coachnick0.tripod.com/completebattingcage, https://coachnick0.tripod.com/derekjetertrainerscom, https://coachnick0.tripod.com/equbb, https://coachnick0.tripod.com/eqsb, https://coachnick0.tripod.com/fpsbs, https://coachnick0.tripod.com/fastpitchsoftballrus.com, https://coachnick0.tripod.com/hbc, https://coachnick0.tripod.com/huricanetrainingmachinesite, https://coachnick0.tripod.com/infinitee, https://coachnick0.tripod.com/sb2day, https://coachnick0.tripod.com/softballweb, https://coachnick0.tripod.com/sbtee, https://coachnick0.tripod.com/hbh, ingbats, https://coachnick0.tripod.com/baseballwebguidecom, https://coachnick0.tripod.com/batactionbaseballandsoftballhitting, httpBaseball Team Coaching and Managing Tips http://www.bataction.com http://www.batactionmachine.com http://www.advancedskillstee.com

http://www.quickswingtrainer.com, http://www.handsbackhitter.com, http://www.staybacktee.com, Build a Batting Cage, Purchase a Batting Cage Only After You Batting Cage Frame Kit Assembly Photos Have Considered These 12 Things, Batting Cage Nets and Frames, Batting Cage Kits - "Build Your Backyard Batting Cage For Less" , Batting Cage Construction Tips http://hurricanebaseballtrainingmachine.blogspot.com/, http://baseballhomeworkhelp.blogspot.com/, http://baseballparentguide.blogspot.com/, http://baseballcoachesdigest.blogspot.com/ Baseball Batting Cage Buying Blog CoachesBest.com Baseball Training Blog Baseball Coaches Digest Blog BatAction Baseball Blog Derek Jeter Hurricane Machine Blog , http://teeballparentsguide.blogspot.com/,