The Advanced Skills Tee has proven to be a popular and valuable tool used by high schools and colleges worldwide. In fact, most teams have at least 3 to 6 Advanced Skills Tees so that when they set up hitting or batting stations indoors or outdoors, they can keep players active and working during practice sessions.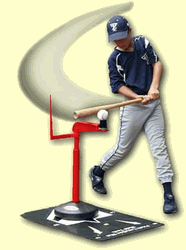 What baseball and softball coaches are saying...
Our team trains daily on the Muhl Tech Advanced Skills Tee. The forward arm and outside barrier helps our players create a proper swing plane and stay short to the ball. These tees are extremely durable and the brush cup ball holder is a great idea, they have held up for years. I would recommend them to any baseball program.

Stan McKeever
Head Baseball Coach
La Cueva High School
Albuquerque, NM
2004 Collegiate Baseball America/Easton Sports Poll National Champions

"We bought 3 AST's last year after running across them at an opponent's field. Immediately upon seeing the tee, I noticed the bad habits that could be corrected with the simple design it employs. The AST has become an important teaching tool for Lafayette High Baseball. One pleasant suprise has been the durability of the AST. My satisfaction prompted me to buy 3 more for the upcoming year.

Coach Jay Domengeaux
Head Coach, Lafayette High School Mighty Lions - Louisiana
Click Here to go to our safe & secure order page at Baseball2u.com or Order by Phone at 1-877-431-4487.