The Joe Mauer Quick Swing Baseball Trainer is one of the absolute best bat speed and swing trainers on the market today. This innovative new baseball training aid is the perfect backyard baseball trainer and team batting practice device.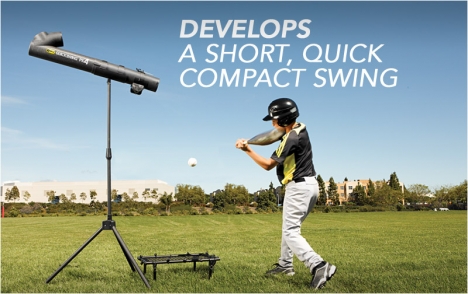 NEW DESIGN NOW WITH A MOTORIZED AUTO-FEEDER
How do you develop a short, quick, compact swing? There's no better way than with the
Mauer's QuickSwing - Joe Mauer Signature Series.
Invented by Jake Mauer II for his son, 2009 AL MVP & reigning batting champ,
Joe Mauer
of the Minnesota Twins. The
Mauer's QuickSwing
uses a unique delayed gravity-drop design to help batters develop greater bat speed, hand-eye coordination, reflexes, and muscle memory.
Ideal for hitters of all ages and abilities. Baseball or Softball players!
New Auto-feed design allows you to load up to 12 baseballs (or 8 softalls) and cycle them out every 6, 8, or 10 second intervals.
Delivers a moving ball downward, forcing you to wait to see the ball and react quickly. Adjusts to varying degrees of difficulty.
Adjusts to varying heights. Portable and durable
FREE instructional DVD by A.L. Batting Champion, Joe Mauer, and Hall of Fame inductee, Paul Molitor.