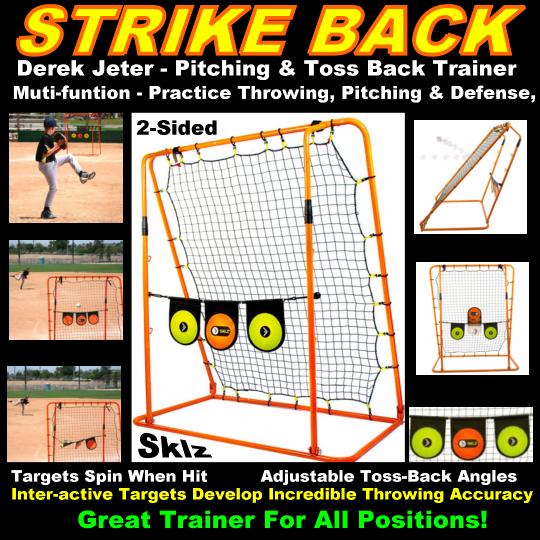 "When Just Throwing a Strike is Not Good Enough!"
"Learn to hit your spots...and make them spin!"

Introducing the STRIKEBACK TRAINER Multi-purpose Pitching Target, Catcher, and Toss-Back. The STRIKEBACK TRAINER features the new "Spin-N-Spots" technology. The spots are designed to close resemble a catchers mitt. The spots spin when hit to give the pitcher instant feedback. The pitcher learns to concentrate on a spot which is a key skill required to be a successful pitcher. The STRIKEBACK develops incredible confidence and control!
Successful pitchers learn early the 3 important skills that must be mastered before becoming a dominate pitcher:
THROW STRIKES - You can not walk batters. You must make them swing the bat!
YOU MUST HIT YOUR SPOTS - You must have perfect pitch command and control.
YOU MUST KEEP THE BALL LOW - Most successful pitchers are control pitchers that keep the ball down.
Wouldn't it be great if there was a pitching trainer that made pitchers master all of these skills very quickly?
WE HAVE GREAT NEWS! There is now a new coaching tool that does all of this and much more....the new STRIKE-BACK TRAINER.

The STRIKEBACK Trainer is more than just a trainer for pitchers. It is also a great training tool for all players. It is a professional grade TOSS-BACK Trainer. The TOSS-BACK has adjustable angles to give you the desired work you need, ground ball, fly-balls, etc.
The STRIKEBACK benefits: