Heater Baseball with BONUS Ball Feeder

Variable Speed Heavy Duty Real Baseball Pitching Machine with Auto Ball Feeder from Heater Sports™

The Heater baseball pitching machine from Trend Sports provides a high quality pitching machine at an affordable price. The powerful 1/4 horsepower motor throws baseballs at variable speeds up to 52 miles per hour.
The Heater also includes an automatic ball feeder that holds 12 baseballs. Take batting practice without the need for another player. And with a simple tilt adjustment you can also catch grounders and fly-balls. Plug the Heater into any standard wall outlet or use it with the optional RollingPower battery pack for convenience. You may also consider the optional PowerAlley or Xtender Home Batting Cages and improve your hitting right in your own backyard.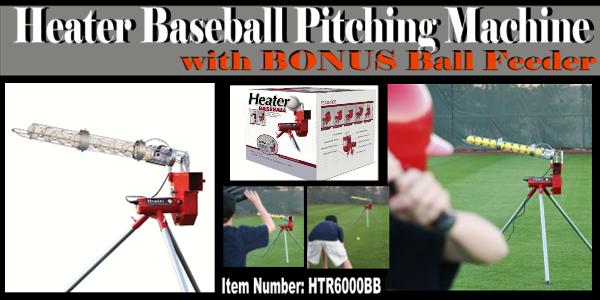 Features:
• Throws Pop-ups, Line Drives, and Grounders
• Variable Speed Control
• Pitches Baseballs Up To 52 MPH
• 12 Ball Automatic Feeder
• Fully Enclosed Wheel
• Adjustable Pitch Height
• Tubular Steel Legs with Rubber Tips
• Uses Standard A/C Power

Benefits:
• Adjustable Speed Control adjusts for a variety of pitch speeds
• Fully Enclosed Wheel provides maximum safety
• Automatic Feeder delivers a ball every 10 seconds
• Strong Steel Legs for stability

Key Specs:
• Model #: HTR6000BB – With Ball Feeder
• A/C Power
• Recommended Ages: 8 years to Adult
• 30-Day Money Back Guarantee - One Year Warranty
• Real Baseball, Pitching Machine Ball, and Lite-Ball Pitching Machine

Heater Baseball Heavy-Duty Pitching Machine with Auto Feeder HTR6000BB