September 2005
Hit2win Baseball Coaches Newsletter

Improve Your Practice......Improve Your Game!

Hello Friend,

Greetings from Alabama! Happy Labor day!
I hope that you enjoy this month's issue.

Our prayers and thoughts go out to all of the victims of Katrina. May God be with them in their time of need.

I have made a donation to a Katrina relief fund that is sending food and supplies to the region. I encourage all of you to do what you can and open your hearts and your pockets. Anything you give will help relieve someone's suffering. We must keep those people in our prayers.

Until Next Month,
Happy Hitting,
Nick

| | |
| --- | --- |
| | Off-season Weight Training for Baseball Players |

"Recommended Light Dumbbell Exercises"

Increasing strength is vital to improving performance. There are two kinds of strengths in athletics, "absolute" and "functional". Heavy weight training targets "absolute" strength. Light-weight dumbbell training targets "functional" strength development. With functional strength training the goal is to improve or maximise "usable" strength directly related to baseball skills and execution. The goal is not to "bulk up". Here are 5 very practical light-weight exercises:


Note: Make sure that players stretch and warmup before performing any weight workouts or exercises. These exercises are performed with 2 to 10 pound dumbbells depending on the age and strength of the player.

Exercise #1: Straight Vertical Press
The exercise begins with the dumbbell held slightly above the shoulder with the elbow bent slightly less than 90 degress. The weight is pressed or lifted straight upward and lowered back to the starting positon. The movement should be very slow to allow resistance going up and down. The player should do at least 12 with both arms.

Exercise #2: Palm-Up, Palm-Down Cross- Overs
The player starts with the dumbbells resting at the players side. One at a time, the dummbells will be brought up and across the chest to the opposite shoulder. The right hand goes to the left shoulder and the left hand goes to the right shoulder. The dumbbell should be held in a palm up position when going up and a palm down positon when going down. At least 12 reps should be performed with both hands. These should be done very slowly to maintain resistance in both directions.

Exercise #3: Two-handed Behind-the- Head Vertical Press
The exercise begins with one or two dumbbells held behind the head. The weights are pressed upward to full arm extension and lowered back down to the starting position. The movement should be slow upward and downward. Make sure that the elbows are kept as high as possible and as close to the head as possible. At least 12 reps should be performed.

Exercise #4: Bent-Over One-Arm Lifts
The exercise begins with the player bending over, with knees slightly bent, in a toe-touch exercise position. The dumbells begin from a resting position on the floor. The player lifts the weight as high as possible. When one arm is lifting, the other arm remains on the floor. The motion is simular to pulling the cord on a "lawn mower". Recommended lifts are 12 with each arm while rotating, palm in, palm out, on every other rep.

Exercise #5: Bent Over Two-Stage Arm Press
The body is slightly bent over with chest over thighs. This dumbell lift has two stages; First, bring elbows up to should height, Second, straighten arms outward until they are parallel to the floor. While keeping the arms straight, the player then returns the dumbells to the starting position. Recommended Reps: 12

| | |
| --- | --- |
| | Baseball Strategy: Attributes of Each Hitter in the Order |



What really makes a great "6" hitter?

When making out our batting order, we should always consider our player's strengths and weaknesses and the demands of each position in the hitting order. Here are the none positions in the order and a general description of what makes a player suitable to hit in that position.





Hitter #1 Job: GET ON BASE - Must be patience, take a lot of pitches, and have definite eye for the strike zone. Must have a high on-base percentage.
Hitter #2 Job: MOVE THE RUNNER-Must be skilled at hitting behind the runner and a great bunter. Must be able to hit and run. Must take a lot of pitches to give the runner at first a chance to take second on a steal or "dirt ball
Hitter #3 Job: DRIVE in RUNS - Must hit for power. Must be capable of driving the ball in the gaps for extra-base hits. Should lead the team in RBI's.
Hitter #4 Job: HIT with POWER - Must be a great hitter capable of driving in runs. Must be able to hit for power under pressure.
Hitter #5 Job: DRIVE in RUNS - Must have enough power and skill to drive in runs. Just like #4, must be able to hit for power under pressure.
Hitter #6 Job: Must be a contact hitter with speed. Many people consider this position the second leadoff.
Hitter #7 Job: Must possess #2 hitter talents. Must be a good buter and capable of hitting behind runners.
Hitter #8 Job: Keep the inning alive! Be a consisitent power or contact hitter. Many people put a good fastball hitter in this spot. Hitters that are weak on off-speed stuff often can be put in this spot.
Hitter #9 Job: Second Leadoff hitter. Good speed is a must.

| | |
| --- | --- |
| | Recommended "Academic Sites" for Student Athletes |

"Making the Grades in the Classroom
Should be Their #1 Priority"

| | |
| --- | --- |
| | Improve Your Off-season Training with the Best Hitting Machine Ever! |

What could 25,000 more practice swings a year do for your player's swing? More Skill? More "POP"? More Confidence?
Good For 5 Days
To order any product featured here, please call 1-877-431-4487, toll free.

Enter content here



Enter supporting content here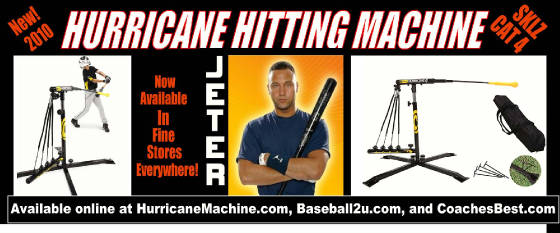 http://battingcagebuyingguide.blogspot.com/, http://coachesbest.blogspot.com/, http://batactionbaseballtraining.blogspot.com/,http://coachnick0.tripod.com/abcvideos, http://coachnick0.tripod.com/quickswing, http://coachnick0.tripod.com/advancedskillstee, http://coachnick0.tripod.com/albertpujolstrainerscom, http://coachnick0.tripod.com/bbd, http://coachnick0.tripod.com/backyardbattingcages, http://coachnick0.tripod.com/backyardpracticecom, http://coachnick0.tripod.com/bbtoday, http://coachnick0.tripod.com/pros, http://coachnick0.tripod.com/baseballandgear, http://coachnick0.tripod.com/bbandgear, http://coachnick0.tripod.com/bbbebg, http://coachnick0.tripod.com/baseballbuyingguide, http://coachnick0.tripod.com/baseballcamps, http://coachnick0.tripod.com/baseballclinics, http://coachnick0.tripod.com/baseballcoachingdigest, http://coachnick0.tripod.com/baseballfitnes, http://coachnick0.tripod.com/baseballmlbcom, http://coachnick0.tripod.com/baseballparentguidecom, http://coahttp://coachnick0.tripod.com/baseballtrainingbats , http://coachnick0.tripod.com/baseballtrainhttp://coachnick0.tripod.com/abcvideos, http://coachnick0.tripod.com/quickswing, http://coachnick0.tripod.com/advancedskillstee, http://coachnick0.tripod.com/albertpujolstrainerscom, http://coachnick0.tripod.com/bbd, http://coachnick0.tripod.com/backyardbattingcages, http://coachnick0.tripod.com/backyardpracticecom, http://coachnick0.tripod.com/bbtoday, http://coachnick0.tripod.com/pros, http://coachnick0.tripod.com/baseballandgear, http://coachnick0.tripod.com/bbandgear, http://coachnick0.tripod.com/bbbebg, http://coachnick0.tripod.com/baseballbuyingguide, http://coachnick0.tripod.com/baseballcamps,

http://coachnick0.tripod.com/baseballclinics, http://coachnick0.tripod.com/baseballcoachingdigest, http://coachnick0.tripod.com/baseballfitnes, http://coachnick0.tripod.com/baseballmlbcom, http://coachnick0.tripod.com/baseballparentguidecom, http://coachnick0.tripod.com/baseballtrainingbats, http://coachnick0.tripod.com/baseballwebguidecom, http://coachnick0.tripod.com/batactionbaseballandsoftballhitting, http://coachnick0.tripod.com/Bataction.com, http://coachnick0.tripod.com/batactiontrainingmachinesite, http://coachnick0.tripod.com/battingcagees4less, http://coachnick0.tripod.com/battingcagesdirect, http://coachnick0.tripod.com/battingcagesrus, http://coachnick0.tripod.com/battingteezcom, http://coachnick0.tripod.com/battingtrainerscom, http://coachnick0.tripod.com/nedcocages, http://coachnick0.tripod.com/bcrus, http://coachnick0.tripod.com/cbpolls, http://coachnick0.tripod.com/completebattingcage, http://coachnick0.tripod.com/derekjetertrainerscom, http://coachnick0.tripod.com/equbb, http://coachnick0.tripod.com/eqsb, http://coachnick0.tripod.com/fpsbs, http://coachnick0.tripod.com/fastpitchsoftballrus.com, http://coachnick0.tripod.com/hbc, http://coachnick0.tripod.com/huricanetrainingmachinesite, http://coachnick0.tripod.com/infinitee, http://coachnick0.tripod.com/sb2day, http://coachnick0.tripod.com/softballweb, http://coachnick0.tripod.com/sbtee, http://coachnick0.tripod.com/hbh, ingbats, http://coachnick0.tripod.com/baseballwebguidecom, http://coachnick0.tripod.com/batactionbaseballandsoftballhitting, httpBaseball Team Coaching and Managing Tips http://www.bataction.com http://www.batactionmachine.com http://www.advancedskillstee.com

http://www.quickswingtrainer.com, http://www.handsbackhitter.com, http://www.staybacktee.com, Build a Batting Cage, Purchase a Batting Cage Only After You Batting Cage Frame Kit Assembly Photos Have Considered These 12 Things, Batting Cage Nets and Frames, Batting Cage Kits - "Build Your Backyard Batting Cage For Less" , Batting Cage Construction Tips http://hurricanebaseballtrainingmachine.blogspot.com/, http://baseballhomeworkhelp.blogspot.com/, http://baseballparentguide.blogspot.com/, http://baseballcoachesdigest.blogspot.com/ Baseball Batting Cage Buying Blog CoachesBest.com Baseball Training Blog Baseball Coaches Digest Blog BatAction Baseball Blog Derek Jeter Hurricane Machine Blog , http://teeballparentsguide.blogspot.com/,