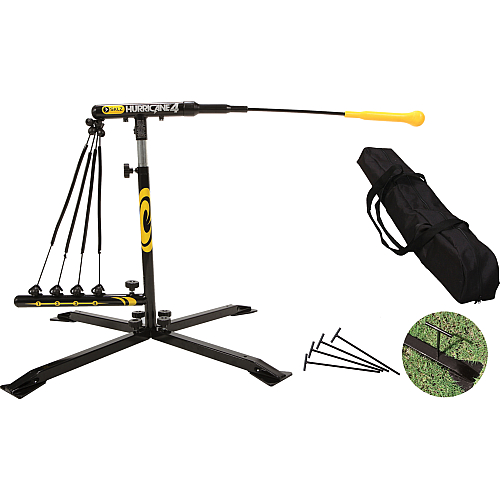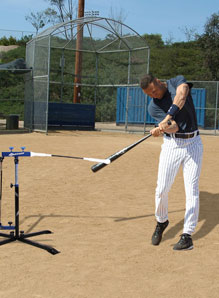 QUESTION: What is the main benefit of owning a Hurricane Baseball Hitting Machine?

ANSWER: I feel the number one benefit is that the Hurricane Machine gives the player a wide variety of hitting drills that allow a player to perform specific drills designed to target a players individual needs and weaknesses. Each of these drills teaches or reinforces an important fundamental of hitting.
QUESTION: How long does it take to assemble the Hurricane? Are tools required for set-up?

ANSWER: No tools are required. You should read the owners manual completely from front to back cover before assembling or using your new Hurricane Batting Machine. The first time you assemble your new machine may take 10 minutes. After that, it should take only 5 minutes are less. If you can do so, we recommend setting your machine up in an unused corner or area of your yard. This allows hitters to practice more often or on impulse when they are bored during the day when Mom or Dad may not be at home. Of you must store your machine in a secure spot between uses, it will only take minutes to set up and take down each time you use it. The Hurricane is a totally user-friendly machine when it comes to use and set-up. If you should have trouble during set-up, please do not hesitate to call our toll free customer service number to talk directly to someone that can answer your questions or walk you through set-up. Call 1-877-431-4487.
QUESTION: What is involved in adjusting the height or speed of the Hurricane Machine?

ANSWER: The height is adjusted by loosening the height adjustment knob, raising or losering the machine to the desired height, and tightening the height adjustment knob. This should take less that 20 seconds to do. Speed adjustment is done by added a Powerband to increase speed and removing a Powerband to decrease speed. Make sure to always connect the Powerband to the bottom hook-bar first and then to the top hook. This prevents a Powerband from "popping" you in the face should your hand slip off of it when you are connecting it to the hook. Speed adjustment takes about 2 minutes.
QUESTION: How fast does the Hurricane Machine ball travel? What pitch speeds does the machine simulate?

ANSWER: The Hurricane ball return speed is determined by the power and bat speed of the batter. With two Powerbands in place, and a average high school hitter swinging the bat, the machine's return speed will simulate speeds reaching up to 60 to 65 mph. With younger players, the speeds simulated may average 45 to 60 mph depending on the power and bat speed of the batter. The harder the ball is hit; the faster the ball's speed when it returns to the batter.
QUESTION: Do you hit the ball moving or should the batter let it stop moving before each swing?

ANSWER: The real beauty of the Hurricane Machine is that you can do both. Players love to hit the fast moving ball. Most of the drills outlined in the owners manual are moving ball drills. However, some of the isolation drills that allow the batter to hit specific pitch locations are performed by allowing the ball to stop before each drill. I would say that 90% of the drills and workouts on the Hurricane Machine are fast ball moving drills. These are highly productive when it come to improving skill, building confidence and increasing bat speed.
QUESTION: What is the number one thing I need to make sure my player knows about the Hurricane before he or she uses it?

ANSWER: I would say that there are actually three things that I would tell them. First, they should always make sure no one is near when they are swinging the bat. They should clear the area before they begin to work. Second, they must realize that the Hurricane operates with a "wrapping and unwrapping" action. They must always allow the Hurricane Machine Powerbands to unwrap between bat swings. If they do not allow the machine to unwind before they swing again, they will stress and break the Powerbands. And last, I would make sure that they take time between swings to reset and assume a proper stance everytime. The Hurricane Machine is so easy and convenient that many times kids tend to work to fast. They must make themselves slow down, get in a proper stance, and take a quality swing each time. The emphasis should be on QUALITY and not QUANTITY when it comes to practice swings.
ONE LAST IMPORTANT POINT: Make sure that your hitter has batting gloves. The Hurricane will greatly increase the number of practice swings a players takes each day. Kids will sometimes take 300 to 500 swings a day. Often times they are not used to taking so many swings. Until their hands get used to it, they must have protection. They will get blisters if they do not have a good pair of batting gloves. So make sure your player has a good pair of batting gloves to wear when hitting the Hurricane Machine.
Note: If you have a question that we did not answer here, please do not hesitate to call us at our toll free number, 1-877-431-4487. We will gladly answer any other question that you might have.
Remember, we give you a Money-Back Guarantee when you buy the Hurricane Machine from us! You will not get that guarantee in other places. We want you to feel comfortable with your decision to buy by knowing that this is a RISK FREE OFFER. And most of all, we want you to be totally happy with the product you buy! ORDER NOW!




Nedco Sports is a fully licensed sporting goods company, established in 1999. Our office hours are 8:00 to 5:00 CST, M-F.
Nedco Sports Products, Inc. - 200 Elizabeth Street - Ste 468 - Boaz, AL. 35957 - Toll Free Customer Support - 1-877-431-4487