BattingCagesrUs.com sells batting cages for home, team and school use. We specialize in complete cage and frame packages that provide you with a complete cage setup at one low price. We also sell nets without frames and all types of screens and custom nets.
Order securely online or by phone. 1-877-431-4487. Our friendly staff will be glad to help you any way they can. Our Office Hours are 8:00 to 5:00 CST.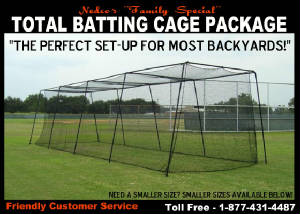 Shown
<<<Click On Image For Larger View
We chose to use polyethylene (PE) netting for our backyard "Family Special".
Why did we choose Polyethylene for this package?
Family's have a need for a batting cage that is durable and that will last them at least 5 years.
PE netting does not absorb water. This prevents the net from becoming saturated with moisture. This saturation can possibly causes the net to become heavy, sag and possibly stretch. This heavy weight can also cause the cage frame to stress.
After three years of outdoor exposure, PE netting retains a higher tensile strength than nylon.
PE holds up well under direct sun.
PE is more economical than nylon.
Most family's are looking to buy the absolute best product they can for the absolute best price.
The PE product offers our customers the best price and performance for the dollar!
Our batting cage netting also features a heavy rope border along the bottom, corners, and top ribs.
In the Southern regions of the U.S. and and especially along the coast, high heat and humidity shortens the life span of nylon netting, even when it is treated.
Batting Cage Frame Included
Our easy-to-assemble frames. Made with 1.5" round steel tubing. Powder-coated black finish to resist rusting.
Our nets feature braided mesh. Braided mesh absorbs ball contact over a larger area, thus prolonging the life of the netting.
Our nets come in the two net sizes shown below. Click on the image for a larger view.