Improve your batting average by improving your baseball swing and baseball batting mechanics with one of our advanced baseball training bats. Baseball Training Bats, is a site with the absolute best training baseball bats for baseball hitting drills and hitting mechanics improvement. All of the baseball batting training bats presented on this site are endorsed by Major League Baseball All-Star, Albert Pujols of the St. Louis Cardinals.
.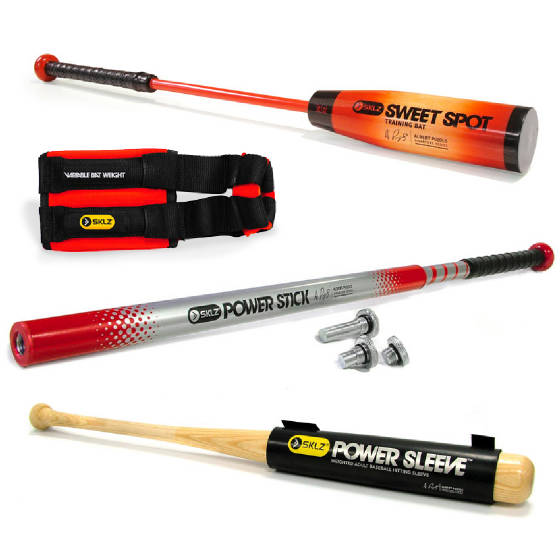 Description of Baseball Power Package w. Adult Sweet Spot 33"

Improves batters' power and contact
Swing with heavier weight to build power, or lighten for more repetition.
Multi-position bat adjusts to regulation lengths: adjust length between 28 and 34 inches
Add or remove screw-in weights (1oz., 2oz., 3oz.) for combinations of -3 to -10
Swing weights
Durable steel design
For use with practice balls only (2 plastic golf-size balls included)
Heavy-duty construction (2 5/8" - Adult version or 2 1/4" - Youth Version all-bamboo barrel and handle with reinforced fiberglass rod)
Strong enough for live pitching, great with swing trainers
Instant feedback and "sting" if hit too far off center
Improves batters' ability to hit on the sweet spot for power and distance
Multiple sizes to simulate regulation baseball bat lengths (31", 33" Adult or 28", 30", 32" Youth)
Includes Bat Weight and 4 weights of 5 ounces each
Fits all baseball bats
Remove or add weights to four separate and secure VelcoŽ pockets
Weight gets positioned toward optimal "sweet spot" area of the bag
Build arm strength
Easy on and off design
Quick Stick Variable Length Training Bat
Albert Pujols Series
-----------
---Variable Length Swing Trainer.
---Narrow your focus and broaden
your game.
---Adjust the Quick Stick swing trainer
to the regulation length you want,
and get plenty of swings for maximizing
hand speed, hand-eye coordination
and contact.