By
Nick Dixon
Adding variety and preventing boredom is an attribute of great coaching. Little league and youth baseball practice can be both fun and productive at the same time. Great coaches know the importance of having a pure fun day every one and a while. The game "Shove-Up" is definitely not an activity that you would use every day, but as a "change of pace" activity, it serves well to motivate kids and teach competitiveness. How is "Shove-up" played? Coach Dixon fully describes the rules and procedure for playing this fun baseball practice game.

Every player on the team will compete against every other player. Each player will keep their own score. Every player will play every position except pitcher and catcher. This is a coach-pitch game.
Here are the rules and procedures of Shove-Up Baseball:
The coach will assign every player a starting position. There will be a player at every position except catcher and pitcher. A catcher is not used for this game. There are no outs made at the plate. This prevents the possibility of an injury and eliminates the need for the long throw to the plate.
The players will rotate from position to position in the order. 9 to 8 to 7 to 5 to 6 to 4 to 3. ( RF to CF to LF to 3B to SS to 2B to 1B) The kid playing first base is the player to come in and bat.
When a player makes an out, that player goes to right field. There is one exception: If a ball is caught in the air by a fielder, the batter goes and trades places with that fielder. Everybody else will hold their place and not rotate.
Hustle is a big part of this game. If a fielder does not hustle, they must go change places with the right fielder.
Players score a run when they cross home plate. The objective of the game is to be the first player to score 7 runs.
Coaches are well advised to put the stronger players in the high number positions to start the game. The weaker or younger players are allowed to have the first at-bats.
There gets to be some strategy involved because players will always try to get the leading scorer out. They will make a play to the base that will cut that runner down and remove that runner from the base, thus taking away his immediate chance to score. That runner would merely go back to his regular batting order.
Players that hit into fielder's choice outs are out. The runner that is out if he is not the batter will bat again, the batter that caused the out goes to right field.
When players exit the field, they place their gloves down the right field line behind first base. This speeds up the process of making the transition from offense to defense. As they run to right field they can grab their glove.
Should a player not hustle to get a batter out, that player is ruled out and the batter is ruled safe.
The regular rules to baseball are applied when it comes to outs.
There are no walks. The batter gets three swings or strikes. A strike out sends the batter to right field and all fielders rotate.
Kids love to play this game. It is great for every player to get experience playing every position. Coaches should make sure that every player playing knows how to properly and safely field a ground ball, line drive and fly ball. Try this game with your team for a 'change of pace". You may choose to use if when you have a big lay off. It is also a great game for all-star baseball teams that have a long extended time to practice before they play. I hope that this article was beneficial to you and your team. Good luck this season! Coach Nick
Nick Dixon is the President and founder of Nedco Sports, the "Hit2win Company". Dixon is also an active and full time high school baseball coach with over 25 years experience. Dixon is widely recognized as an expert in the area of baseball training, practice and skill development. Coach Dixon is better known as the inventor of several of baseball and softball's most popular training products such as the Original BatAction Hitting Machine, SKLZ Derek Jeter Hurricane Hitting Machine, Original Hitting Stick, Hit2win Trainer, SKLZ Target Trainer, SKLZ Derek Jeter ZipnHit Pro, and Strikeback Trainer.
Dixon is also a contributing writer for BaseballCoachingDigest.com, the Baseball 2Day Coaches Journal (bb2day.com), BattingCageBuilder.com, AmericanBaseballDirectory.com and the Hit2win Baseball Coaches Monthly Newsletter. Dixon has 5 blogs related to baseball training including the BaseballCoachingDigest Blog, CoachesBest Training Blog, Hurricane Machine Training Blog, Batting Cage Buyers Blog, and the Bat Action Training Blog.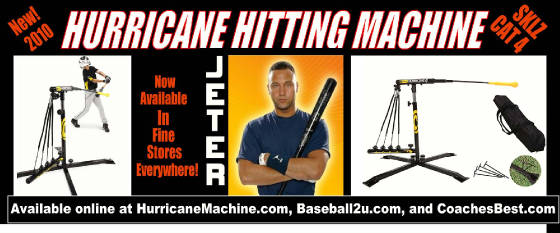 http://battingcagebuyingguide.blogspot.com/, http://coachesbest.blogspot.com/, http://batactionbaseballtraining.blogspot.com/,http://coachnick0.tripod.com/abcvideos, http://coachnick0.tripod.com/quickswing, http://coachnick0.tripod.com/advancedskillstee, http://coachnick0.tripod.com/albertpujolstrainerscom, http://coachnick0.tripod.com/bbd, http://coachnick0.tripod.com/backyardbattingcages, http://coachnick0.tripod.com/backyardpracticecom, http://coachnick0.tripod.com/bbtoday, http://coachnick0.tripod.com/pros, http://coachnick0.tripod.com/baseballandgear, http://coachnick0.tripod.com/bbandgear, http://coachnick0.tripod.com/bbbebg, http://coachnick0.tripod.com/baseballbuyingguide, http://coachnick0.tripod.com/baseballcamps, http://coachnick0.tripod.com/baseballclinics, http://coachnick0.tripod.com/baseballcoachingdigest, http://coachnick0.tripod.com/baseballfitnes, http://coachnick0.tripod.com/baseballmlbcom, http://coachnick0.tripod.com/baseballparentguidecom, http://coahttp://coachnick0.tripod.com/baseballtrainingbats , http://coachnick0.tripod.com/baseballtrainhttp://coachnick0.tripod.com/abcvideos, http://coachnick0.tripod.com/quickswing, http://coachnick0.tripod.com/advancedskillstee, http://coachnick0.tripod.com/albertpujolstrainerscom, http://coachnick0.tripod.com/bbd, http://coachnick0.tripod.com/backyardbattingcages, http://coachnick0.tripod.com/backyardpracticecom, http://coachnick0.tripod.com/bbtoday, http://coachnick0.tripod.com/pros, http://coachnick0.tripod.com/baseballandgear, http://coachnick0.tripod.com/bbandgear, http://coachnick0.tripod.com/bbbebg, http://coachnick0.tripod.com/baseballbuyingguide, http://coachnick0.tripod.com/baseballcamps,

http://coachnick0.tripod.com/baseballclinics, http://coachnick0.tripod.com/baseballcoachingdigest, http://coachnick0.tripod.com/baseballfitnes, http://coachnick0.tripod.com/baseballmlbcom, http://coachnick0.tripod.com/baseballparentguidecom, http://coachnick0.tripod.com/baseballtrainingbats, http://coachnick0.tripod.com/baseballwebguidecom, http://coachnick0.tripod.com/batactionbaseballandsoftballhitting, http://coachnick0.tripod.com/Bataction.com, http://coachnick0.tripod.com/batactiontrainingmachinesite, http://coachnick0.tripod.com/battingcagees4less, http://coachnick0.tripod.com/battingcagesdirect, http://coachnick0.tripod.com/battingcagesrus, http://coachnick0.tripod.com/battingteezcom, http://coachnick0.tripod.com/battingtrainerscom, http://coachnick0.tripod.com/nedcocages, http://coachnick0.tripod.com/bcrus, http://coachnick0.tripod.com/cbpolls, http://coachnick0.tripod.com/completebattingcage, http://coachnick0.tripod.com/derekjetertrainerscom, http://coachnick0.tripod.com/equbb, http://coachnick0.tripod.com/eqsb, http://coachnick0.tripod.com/fpsbs, http://coachnick0.tripod.com/fastpitchsoftballrus.com, http://coachnick0.tripod.com/hbc, http://coachnick0.tripod.com/huricanetrainingmachinesite, http://coachnick0.tripod.com/infinitee, http://coachnick0.tripod.com/sb2day, http://coachnick0.tripod.com/softballweb, http://coachnick0.tripod.com/sbtee, http://coachnick0.tripod.com/hbh, ingbats, http://coachnick0.tripod.com/baseballwebguidecom, http://coachnick0.tripod.com/batactionbaseballandsoftballhitting, httpBaseball Team Coaching and Managing Tips http://www.bataction.com http://www.batactionmachine.com http://www.advancedskillstee.com

http://www.quickswingtrainer.com, http://www.handsbackhitter.com, http://www.staybacktee.com, Build a Batting Cage, Purchase a Batting Cage Only After You Batting Cage Frame Kit Assembly Photos Have Considered These 12 Things, Batting Cage Nets and Frames, Batting Cage Kits - "Build Your Backyard Batting Cage For Less" , Batting Cage Construction Tips http://hurricanebaseballtrainingmachine.blogspot.com/, http://baseballhomeworkhelp.blogspot.com/, http://baseballparentguide.blogspot.com/, http://baseballcoachesdigest.blogspot.com/ Baseball Batting Cage Buying Blog CoachesBest.com Baseball Training Blog Baseball Coaches Digest Blog BatAction Baseball Blog Derek Jeter Hurricane Machine Blog , http://teeballparentsguide.blogspot.com/,